"No gimmicks, just does the job."
-- CollettAndrew from Ashbury, Australia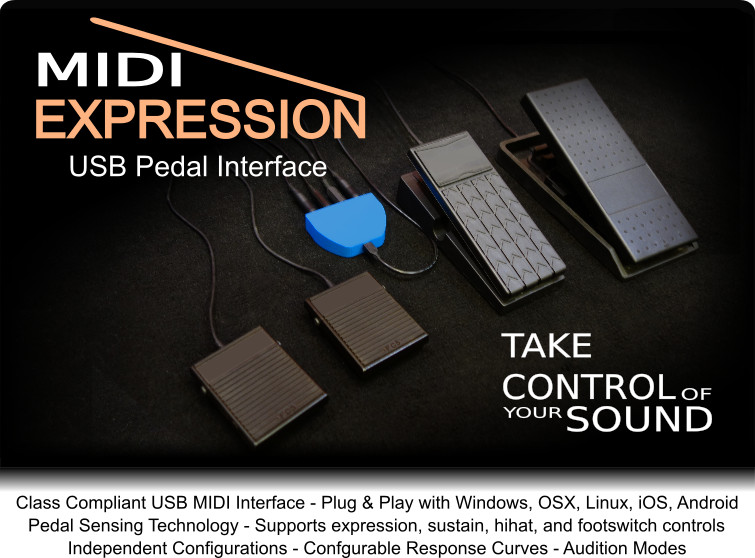 Overview
MIDI Expression devices are class compliant USB MIDI pedal interfaces. Pedal sensing technology built into each device automatically loads custom presets when various types of pedals are plugged in, allowing them to support a whole range of pedals with zero fuss. This functionality is enhanced by a preset editor application that gives demanding users all the control they need and exposes powerful features like pedal calibration, adjustable expression curves, and advanced processing modes.
Reasons to use MIDI Expression
You need an input that can handle a wide range of different pedals.
You want hands-free control of your music rig or DAW.
You want to turn your pedals into MIDI foot controllers.
You need a compact and efficient pedal interface for your live performances.
You want to give your virtual piano all the pedals found on a regular piano.
You want to trigger velocity sensitive notes with an expression pedal.
You need an easy and hands free way to audition patch changes and presets.
If any of the above apply to you, I recommend spending some time checking out some videos and having a look at the manual to see if MIDI Expression is right for you.
Purchase
MIDI Expression has a single input. It costs $49 USD and includes free shipping to almost anywhere in the world.
MIDI Expression Quattro has four inputs. It costs $119 USD and includes free shipping to almost anywhere in the world.




Get your order faster. Add priority shipping into your cart and get your order in 4-7 days.

While purchases can still be made, only Priority Shipping orders will be sent out between February 5th and February 13th. Sorry for the inconvenience.
© 2016 Robert Jonkman. All rights reserved.