"The curve stuff works great with my expression pedal."
-- Aaron from Mishawaka, United States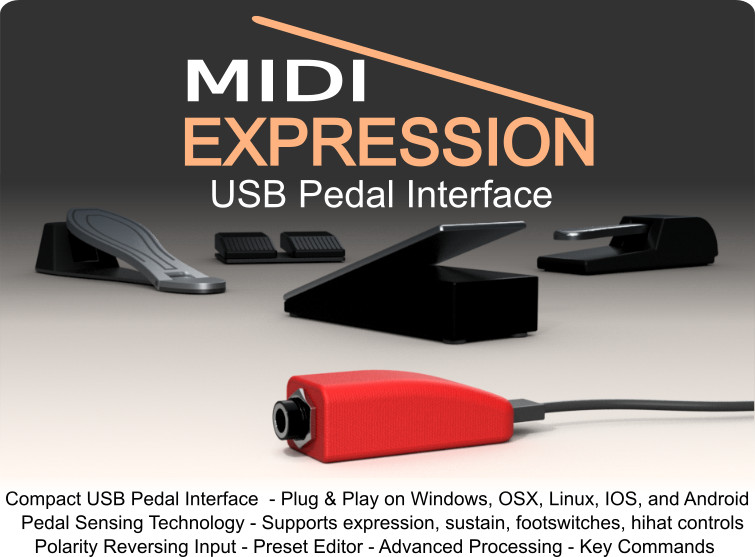 Overview
MIDI Expression is a compact class compliant USB MIDI device that allows different types of pedals to interface with your computer. Pedal sensing technology built into the device detects the type of pedal plugged in and automatically adjusts its settings to support it.
Reasons to use MIDI Expression
You want to connect a pedal for use in your DAW or software instrument.
You want to customize the response curve of your expression pedal.
You need a compact expression pedal input for your live performances.
You need an input that can handle a wide range of different pedals.
You want to add a hihat controller to DSP Trigger.
If any of the above apply to you, I recommend spending some time checking out some
videos
and having a look at the
manual
to see if MIDI Expression is right for you.
How it Works
MIDI Expression has four built-in configurations or presets--one for expression pedals, one for sustain pedals, one for hihat controllers, and one for footswitches. When you plug-in a pedal, the MIDI Expression detects its type and automatically loads the corresponding configuration. The MIDI Expression Control Application can be used to change a number of settings for each of the configurations including, Chan, CC, response curve, and more. All settings are stored in the device itself for portability.
Purchase
MIDI Expression costs $49 USD and includes free shipping to almost anywhere in the world.

© 2014 Robert Jonkman. All rights reserved.