Starting Point (DAW Edition)
Top Reasons to use Starting Point
Make keeping track of your projects and mixdowns easy!
Attach post-it style notes to your projects and tracks.
Automatically disable system devices like bluetooth, webcams, and printers when you start your music applications.
Listen to your mixdowns as they are being written by your sequencer.
Automatically add tags to your mixdowns.
Automatically load secondary applications when you open music applications (BCF users should be thinking BCFVIEW).
Overview
Starting Point is focused on allowing you to be more productive by making interfacing with your computer a whole lot simpler. Creating and producing music on a modern DAW involves using numerous applications and keeping track of projects that are scattered throughout different folders on your computer. This is where Starting Point shines; It puts everything you need for making and producing music into one simple, intelligent, and easy to use interface--a starting point for just about everything you need to do.
Key Features
Project Manager:
The Project Manager keeps your projects right at your finger tips, freeing you from clicking your way though your hardrive to open them.
Audio Player:

Starting Point's built-in audio player is designed for DAW operators. It provides unique tools and features for listening to and organizing your mixdowns. It supports all the popular audio formats (even the lesser known ones) and can playback and rip audio CDs.
A.I.D:
A.I.D is a tool that can intelligently load an application when its associated hardware profile is connected allowing you to 'turn on' your music applications.
Device Manager:
The Device Manager can be configured to disable devices such as onboard sound, networking interfaces, and bluetooth so that they don't steal precious resources away from your resource hungry applications.
32 and 64 bit:
Starting point runs on 64bit or 32bit versions of Windows including XP, Vista, and Windows 7.

Download
Grab a copy of the latest version from the download page.
System Requirements
Starting Point require Microsoft's .NET Framework 3.0. Vista and Windows 7 come with .NET Framework preinstalled. Windows XP users will have to download and install the framework before using Starting Point.
Features Explained
Project Manager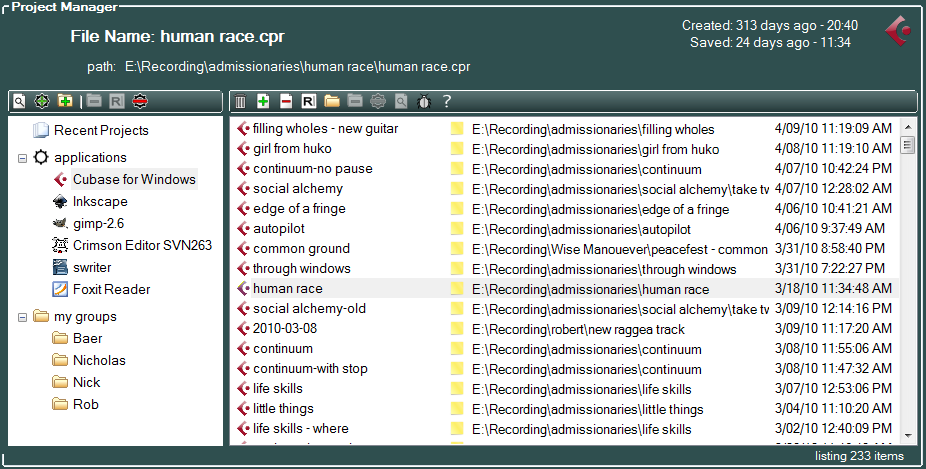 How does the Project Manager help you stay organized?
The Project manager helps keep track of all your projects from different applications by listing them in one easy to use interface. It gives you Google Documents style classification features allowing projects to be browsed by date, group, and application. It also has a 'just start typing' search function to quickly locate projects.
From the Project Manager, projects can be renamed, added to user groups, sent to the recycle bin or dragged into other applications just like in Windows Explorer.
Audio Player / Track Folders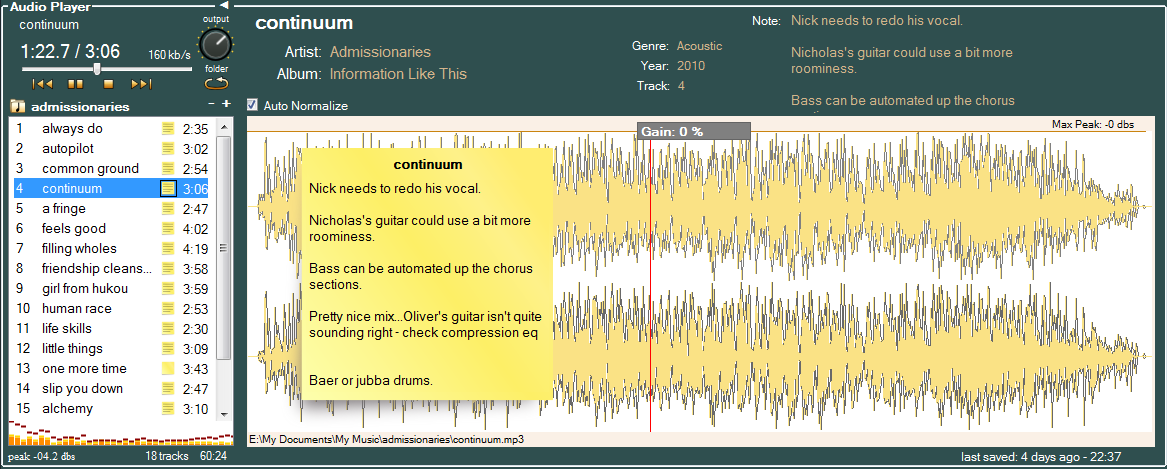 What's so great about Starting Point's Audio Player?
The Audio Player in Starting Point was designed with DAW users in mind. It organizes your mixdowns into living playlists called 'track folders'. A track folder represents all the audio tracks in a particular folder on your hardrive. When mixdowns are added or removed from the folder on your hardrive, the track folder in Starting Point is updated to reflect those changes, highlighting new mixdowns and removing ones that have been deleted. Track folders can even automatically make and update tags, saving you from having to repeatedly enter this information yourself.
Here's a list of some of the features the Audio Player offers:
View the waveforms of your mixdowns.
Auto normalize tracks in realtime.
Adjust the gain of individual tracks.
Listen to your new mixdowns as they are being written by your sequencer.
Change the output device on the fly without missing a beat.
Playback a wide range of formats including: wav, aiff, mp3, m4a, ogg, wma, flac, just to name a few.
Quickly add tags to the tracks in a track folder.
Playback and rip Audio CDs.
A.I.D.
What does AID do?
| | |
| --- | --- |
| | The original goal of A.I.D. (Audio Interface Detection) was to prevent starting an application if its required hardware was not connected. While it maintains this functionality, it has evolved to even allow users to simply 'turn on' their music applications when its hardware is connected, giving new meaning to the term 'Plug and Play'. For example, when you connect Rig Kontrol hardware, A.I.D. can automatically launch Guitar Rig for you. There's no need to touch your mouse. Just plugin the hardware and you're ready to play. |
Device Manager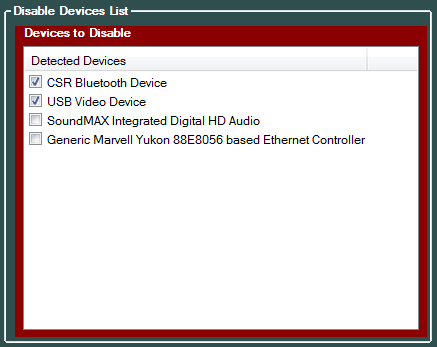 How does the Device Manager help?
It's always a good idea to disable things like bluetooth on your DAW. This is because such devices can cause audio dropouts in your playback and recording. But what about when you're not using your computer as a DAW? Starting Point's Device Manager provides a solution to this problem by allowing you to disable these types of devices when you run your music applications and re-enabling them when you close the application.
© 2013 Robert Jonkman. All rights reserved.