Frequently Asked Questions
Yes, it does. Multiple instances of the plugin have crosstalk cancellation applied them. Furthermore MIDI passing through the plugin also has crosstalk cancellation applied to it before it's passed to the output.
Yes you can, but the free version only processes the head zone of the pad. But even with the single zone, you should be able to get two articulations from the pad. Make sure you connect your pad using a stereo patch cord like this:

While the plugin itself doesn't produce any latency, it does take time to determine the velocity of the hit--about 2 milliseconds. However, to ensure you get nice playable results, you'll want to be using the lowest sample buffer possible. I find 128 samples works great.
DSP Trigger is fully compatible with dual zone pads. How are you connecting your pad to DSP Trigger? Make sure you use a stereo patch cord like this:

Connecting a dual zone snare using a mono patch cord will not work properly as the mono cable will be fed both zones. This results in cancellation and poor performance from DSP Trigger.
This is because the phase of your input in reversed. Just click

(PHASE) button that's below the Vu Meter. Note that you'll also have to recalibrate the plugin.
Is there a PAD switch on your audio interface? You might try disabling that. Some higher end interfaces also have a trim control for their line inputs. If worse comes to worse, you could preamp the signal.
The AU version was designed to support LOGIC. As Logic automatically routes all MIDI to active instruments, this feature is not needed.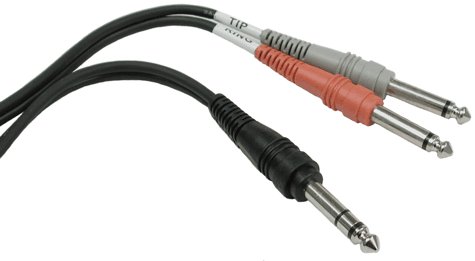 The best way to connect your pad is using a cable similar to the one shown. Watch out using 1/4 -> 1/8 headphone adapters plugged into the pad itself. Vibrations running through the adapter will often result in a poor connection.
© 2013 Robert Jonkman. All rights reserved.